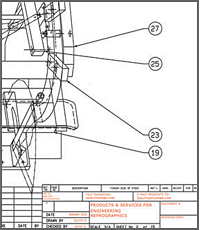 Whether you need just 50, or more than 500,000, Studio042 delivers fast turnaround and high quality copies and digital prints using our advanced printing technology. Color or black and white, simple or complex––our digital printing specialists will help you select the right paper, finishing and binding to ensure that every project looks professional.
Single-sided or double-sided copies and prints in all standard sizes and on all standard paper stocks––Standard sizes are: 8.5×11, 8.5×14 or 11×17 for color or black & white copies
Complete range of finishing options: folding, collating, simple stapling, 3-hole drilling, saddle stitching, coil, comb or velo binding and inserting.
Custom covers, binding, laminating, shrink-wrapping or packaging.
Scanning to CD
We can handle just about any file format you are working in. We prefer PDFs since there are usually no issues regarding fonts, layouts and or margins. Either way just send in the files and we will call you.
Copying and digital printing costs are based on the quantity, type of paper and binding––let our print specialists help you find the right solution for your budget requirements.
Upload your digital originals by clicking on the "send a file" button on the right side of the page or send in your hard copy originals and let us handle the rest, most jobs can be done while you wait or in just a few hours. .