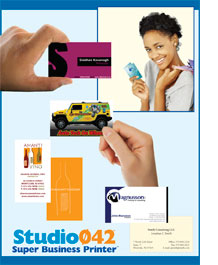 Studio042 offers three different types of business cards depending on your individual needs. Rapid response digital business cards, Full color business cards and Traditional thermographed cards. See the chart below for the various quantities, paper stocks, price breaks and turnaround times available for each type of card.
At any time you can upload your files by clicking on the "send a file" button on the right side of this page, or mail them.
Rapid Response Business Cards
Traditional Business Cards

Thermographed or Flat Print

Full Color Business Cards
Min Qty
48
500
250
Price Breaks
N/A
1000, 2000,3000, 5000, 10,000, 20,000+
500, 1000, 2500, 5000, 10,000, 20,000+
1 or 2 side Printing
1 or 2 sides
1 or 2 sides
(Second Side will be flat print)
1 or 2 sides
Design Services
Available
Available
Available
Stocks Available
100# Matte / Dull Smooth Cover
Kromekote: White, Yellow, Red, Black
Opaline

Silver Metallic & Gold Metallic

Woodgrain

Brites: Yellow, Pink, Green, Orange, Blue

Parchment: Natural, Sand, Pink, Blue

Blue Marble

80# *White Plate,*Double Thick White Plate, *Soft White Plate

*Linen: Solar White, Natural, Baronial Ivory, Antique Grey, Blue, Monterey Sand, Mauve, Whitestone, Greystone, Silver-stone, Sage Green stone, Earth stone

*Laid: White, Natural, Ivory, Grey, Blue, Tan, Green, Rose

*Strathmore: Natural White, Ultimate White

*Classic Duplex Cover: Solar White & Black, Solar White & Red, Whitestone & Navy, Natural White & Ponderosa Pine, Natural White & Peppered Moss, Greystone & Whitestone

100# Gloss Cover (White)

14 pt Matte / Dull or UV Gloss Finish (White)

16 pt Matte / Dull or UV Gloss finish (White)

100# White Linen (White)

16 pt Silk Laminated Business Cards

20 pt 2″x3.5″ Plastic Business Cards (Rounded Corners, Available in White, Clear, or Frosted Finish)

16 pt w/ Silver ink Uncoated

14 or 16 pt Silver w/ UV

14 or 16 pt w/ Spot UV

16 pt w/ Spot Color

16 pt Business Cards w/ Metallics (Unlimited Without Coating)

Rounded Corners
N/A
Available on most stocks
Available on most stocks
QR Codes
Available
N/A
Available
Turnaround
1business day†‡
3 business days†‡
5 business days†‡
† Does not include the design/creative process.
‡ Typical turnaround. Actual times may vary.