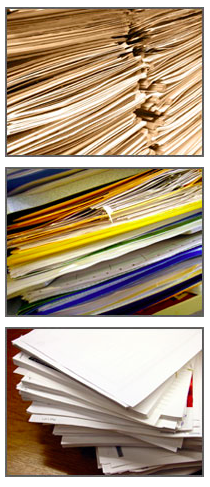 Bulk Scanning as low as 20 cents per side* – easy to understand pricing.– Connect With Studio042's Online Storage — Studio042's bulk document scanning service allows us to directly push your scanned documents into Google Docs as well as your own online storage system. Our service covers full-color scanning, PDF creation, and digital transfer of your new files. Or you can request your documents on a DVD or a USB Flash Drive for an additional fee. The choice is yours.
– Turn storage space into productivity space— Studio042's bulk document scanning services are a great way for a business to get rid of its legacy filing cabinets and boxes. All those documents sitting in filing cabinets and on the floor take up valuable office space. Studio042's bulk document scanning services eliminate the need for physical storage of documents, freeing up room for real work. You can then elect to move your documents off-site to long-term storage or to shred your documents. The choice is yours!
– Convert your existing paper files into PDF files — Never struggle to find the correct paper document again. Studio042's bulk document scanning service converts your legacy paper documents into PDF documents and names them as per your file-folders name. You can then find your documents for easily without ever having to leave your desk and dig through old filing cabinets or folders again.
– OCR Conversion — Converting images to text-searchable PDFs is not an exact science and therefore is not 100% perfect. Here is an example of a paper document scanned and converted to a text-searchable PDF. and here is the original document. In the OCR converted document, the original document is retained and the OCR conversion is appended within the document. Due to the inherent inaccuracy and manual workload required to render a usable file we do not recommend OCR scanning services at this time. That said if you feel this level of accuracy is acceptable for your archival purposes we are happy to provide this service.
– Fast, Secure, and Local — Studio042 will turn around your scanning project in 48 hours on average, Monday to Friday, at our secure facility located in the heart of downtown Montclair, New Jersey. Our own drivers and trucks will securely pick up your project from your office and deliver it back to your door.**
*20 cents/image of an 8.5" x 11", 20/60 lb stock in auto-feed mode and a minimum qty of 10K images, the average price paid is 5 cents per image. Please call for a quote.
**Minimums apply for pickup and delivery, depending on distance and availability. Please call for a quote.
BULK SCANNING PRICE STRUCTURE
The setup fee is $4.95 per scan job/folder. Includes a digital zip folder named per the file folder. { Max 130 sheets/images per folder }
All projects are subject to prior in-person review and approval by management.
AUTO-FED DOCUMENTS
# of images
1-900
901-3K
3001-10K
10,001-50K
Price per image
.45
.40
.30
.20
HAND PLACED DOCUMENTS
# of images
1-900
901-3K
3001-10K
10,001-50K
Price per image
1.00
.75
.70
.60
Remove/replace: Staple, paper clip, binder clip/post, etc. – .15 cents each
Custom quote on:
Unbind and rebind books or documents

Documents other then clean letter-size, auto-feed, or marked up documents
Scanning of documents with sizes other than 8.5″x11″