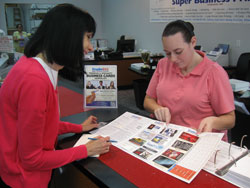 Thank you for visiting Studio042 "Career Opportunities" page. Please review the following job descriptions  and contact us if you think you're qualified. Positions are not always open but we are always seeking resumes.
Please take the time to tell us what makes you special in your cover letter.
Studio042
Customer Service Representative
Studio042 in Montclair, NJ
423 Bloomfield Avenue Montclair, NJ 07042
Quality@Studio042.com
Customer Service Representative, (CSR), Photocopying services and related production operations. This is an entry-level position. Preference will be given to those who have related industry experience.
Rate: $10.00/hr., plus commission
Status: Part time, 30 hours per week
Hours: 12:00 PM to 6:00 PM, Monday through Friday
Primary responsibilities:
The successful candidate will work closely with our clients, assisting them in completion of their photocopying projects. Studio042 is a full service operation so the CSR will greet clients on the phone and/or in person; price and quote the project requested; coordinate the download or pick up and delivery of photocopying jobs; complete the production of and related bindery services such as scanning, faxing, collating, stapling, folding etc., if required. Heavy phone and computer usage is required in this position. The candidate must be able to lift and carry for short distances boxes and rolls of paper weighing 55 lbs.
Other responsibilities:
These include, but are not limited to, informing clients of the status of their project or accounts; additional bindery services; light housekeeping chores; taking bank deposits to the bank; preparing, reconciling and updating daily sales and production charts and closing reports; light mailing services; maintaining certain inventory items and ordering as needed or directed.
A successful employee will:
Seek to increase knowledge of our other products and services and increase sales by informing our clients of our other services by direct targeted messaging.
Demonstrate commitment by solving problems without being directed to, going above and beyond the clients' expectations.
Act in a manner befitting a team player by being supportive and reliable, and having a positive disposition.
All Studio042 employees must complete all State and Federal labor compliance forms including a Studio042 non-compete agreement.
Studio042 is the nation's first and only Super Business Printer. Located in Montclair, New Jersey, just 12 miles west of New York City. Established in 1989 as a quick print/copy franchise, we became independent as our products and services outgrew our franchise agreement. Today we complete thousands of projects per year covering a wide assortment of products and services, with each project delivered with individualized care. Our clients include the Federal Government, major universities, hospitals, nonprofits of all sizes, local governments and authorities, large and small private companies, firms, and groups.
Studio042 is seeking a responsible person to assist us with our growing business. Studio042 is an equal opportunity employer.
Candidates who meet the requirements and can fulfill the stated responsibilities should send a resume and cover letter to Quality@studio042.com. Please include your full contact information so we can contact you after we have reviewed resumes from interested candidates.
Third party employment brokers, agents, or coordinators should not reply or contact Studio042.
Sales Account Representative-inside
Studio042 in Montclair, New Jersey.
423 Bloomfield Avenue
Montclair, NJ 07042
quality@Studio042.com
Studio042 in Montclair New Jersey is looking to add to our team! We are currently seeking a (part-time*) self-motivated, experienced Account Executive for our inside sales program.
The primary responsibility of this position will be to develop new and penetrate existing clients through sales of Engineering Reprographics and related products. This position includes cultivating customer relationships, achieving stated sales growth goals of $40,000/month, executing marketing campaigns, meeting with customers, exhibiting at trade shows, preparing sales activity reports as required by Studio042 management. Computer skills: Microsoft Excel, Word, and Printsmith a plus. Excellent verbal and written communication skills, strong sales ability, time-management and negotiation skills. Must be very enthusiastic and exhibit a friendly demeanor in dealing with customers and Studio042 team members. Ability to solve problems involving several variables. Ability to multi-task in a fast-paced environment. Proven ability to work in a team environment with a desire for accomplishment and achievement.
You must become a Notary Public if you are not already a notary. Studio042 provides Notary services free of charge to our clients.
Salary: Base plus commission to 10% of gross sales activity. Base and commission are established upon review of your experience and past performance.
Minimum base is $10.00 per hour part time.
To be considered for a position with our innovative and exciting company, please email cover letter and resume to Team@Studio042.com.Selected candidate may be required to successfully pass a drug screening test and background check.
Cover letter must include salary history and current requirements.
" * " = Position is Part-Time Monday through Friday 12:30 PM through 6:30 PM with a planned move to Full-Time with full benefits and 401K for the candidate who can meet their goals over an 80 day probation period.
Studio042 is proud to be an Equal Opportunity Employer
We look forward to hearing from you.
Hiring Manager, Studio042